The Official Blog of the Society for Military History
Filed in:
I am a graduate student at Carnegie Mellon University.  The main thrust of my dissertation is the history of technology, but the particular technology I am studying is military.  Specifically, I am looking at how the U.S. military services adopted (and adapted) the airplane, and comparing that development across Army, Navy, and Marine Corps from 1908-1925.  (I keep saying this, but I hope to be done soon!)
In April of 2008, I started the archival research for my dissertation by visiting the Air Force Academy library's special collections.  As this was my first intensive research visit, I had not yet developed any clear ideas as to what, exactly, I was looking for, so I was looking at a bit of everything.  I knew, however, that I needed to see the papers of General George Owen Squier, an important officer in the development of aviation in the U.S. Army.  This collection is what brought me to the Academy.
Though he never underwent flight training himself, Squier remained an aviation promoter and enthusiast once he had been exposed to flight.  I had not yet read deeply in secondary sources, but I knew that Squier had been Chief of the Army's Signal Corps, for the last year or so before Army aviation separated from the Signal Corps in 1918.  I also knew that, from that position, he had supported the development of Army aviation.
But in reading his papers, I discovered that Squier was much more involved with (and important to) Army aviation than I knew.  One interesting thing I discovered concerned Squier's time in London as military attaché in 1914.  In a presentation in 1930, Squier's sister, Mary Squier Parker (the two were close – she survived him and was the one to donate his papers; the collection includes many of her papers as well), told members of a local Michigan club that her brother had been allowed to visit the British sector of the front in 1914 – this at a time when the U.S. was still strongly neutral, and when representatives of Britain's declared allies (Russia and Japan) were reportedly denied similar access.  Since she was relating the story in an informal setting (academically speaking) many years after the fact, I mentally discounted the tale.  I figured that that this was just a sister's pride in her brother's achievements, combined with the inaccuracy of memory inflating his importance over time.  However, I soon found some other documents to corroborate the date and nature of George's visit, and moved on with my research.
Toward the end of my scheduled time in Colorado Springs, I had been through everything I knew I wanted to see, and was at the point of just looking at other things on speculation.  The finding aid identified a collection of "News Clippings, 1899-1958" in "Package 7," and I figured I would see what kind of stories were in these clippings.  But there was a problem: "Package 7" could not be found.  In fact, as I recall, none of the "packages" could be located. They were not on the shelf with the document boxes.  After a good bit of searching, the archivists found the "packages" back in the oversized documents storage.
The packages were little more than oversized envelopes, apparently untouched since their accessioning, as the envelopes were glued shut.  The reason the archivists had had a hard time locating Package 7 is that several of the packages had been placed together in a large Hollinger box and stored with the oversized documents.  As I opened the envelope that was Package 7, I could see that the contents were all loose clippings and odd-sized papers.  Since the archivists had no idea what was in the envelope, I promised to try to sort through the papers and report on their contents.  It quickly became clear that this envelope probably contained the contents of a desk drawer: there were multiple copies of articles from the local paper mentioning George, including perhaps two dozen copies of his obituary, along with other odds and ends.
But while sorting through these clippings, I found an odd-sized piece of very heavy paper.  The paper bore a letterhead consisting of a seal and the address, "War Office, Whitehall," embossed on the paper, with nothing else to highlight them.  The document was a short letter, typed, with a firm, clear, handwritten signature.  Dated "14th November 1914" and addressed to "My dear French," the letter introduced Squier, mentioned that he would be traveling to France, that he would "doubtless want to see something of our troops," and encouraged French to "give him facilities for doing so as far as is practicable."  It was signed simply, "Kitchener."  This was Squier's free pass to visit the British lines in France and see practically anything he wanted.  (The vague wording was diplomatically necessary to avoid putting in writing exactly what Squier would be doing in France.)  The archivists were just as excited as I was to discover that this document survived, unknown, in their collection.  They immediately gave it its own acid-free folder in the last document box, removing it from the rest of the contents of Package 7.
The letter itself makes no new revelations.  It was not needed to confirm Squier's visit to the front; other evidence (beyond Mary Squier Parker's memories) exists to prove the visit occurred, though the letter does wrap it up and put a bow on the story.  Instead, the interest is in the provenance: written (or at least signed) by Lord Kitchener (at that time, Britain's Secretary of State for War) and delivered to General Sir John French (commanding the British Expeditionary Force in France) just a few months into the war.  Such a document might have been thrown away after its purpose had been served, or even deliberately destroyed to prevent any diplomatic problems should it come to light.  But Squier kept the letter, only to have it become just another anonymous piece of paper in his collection until I rediscovered it.
Filed in:
**This is, hopefully, the first in a series of guest posts–I'd love to hear about your best, favorite, surprising, provocative and inspiring archive finds.  Please email me (sankeym@mnstate.edu) if you'd like to share!
In 2008, I received my Masters degree in History from George Washington University (after thirty years working on and around Capitol Hill).  Since then, I've been working on a manuscript about how the wives of four of Lincoln's generals influenced their husbands' Civil War careers.  One of them is Ellen Ewing Sherman, and I have spent many hours exploring the William T. Sherman Family Papers Collection in the University of Notre Dame Archives.  (http://archives.nd.edu/findaids/ead/xml/shr.xml).
Much of the collection is online – the archivists have done an exceptional job of digitizing originals and transcripts of hundreds of letters between Ellen and her husband.  Even though Sherman told his wife (as he was heading to Manassas in July of 1861) that he would tear up her letters because "every ounce on the march tells," he did not.  He saved nearly all of them, and with the hundreds of his she saved, the collection includes one of the most extensive and intimate views of the war.
The collection also includes their diaries, articles they wrote, financial papers, sketches by Sherman, and the papers of their children.  In addition, the collection includes the papers of Thomas Ewing and those of several of his sons, Charles Sherman (WT's father) and some of John Sherman's papers. It is a treasure.  Thanks to the archivists' work, most all of it is accessible anywhere you have WI-FI. But, of course, some items can be viewed only in the Archives themselves, and I knew I had to go there to see them.
In mid-September of this year, I was able to visit the Archives, thanks to a generous travel grant from the Cushwa Center at Notre Dame (
https://cushwa.nd.edu/grant-opportunities/research-travel-grants/
). The major focus of my visit was an item I noted in the finding aid –  a box named "Objects" that had not been scanned (nor was there online a list of items in the box).   It turned out that there are actually three archival boxes in that category, containing fascinating artifacts owned by Ellen and Sherman.  In the third archival box, I found a mystery – a small cardboard box, labeled (in General Sherman's granddaughter's handwriting) "Seal of Confederate prison in S.C."
Opening the box, I was absolutely floored.  Inside is a wooden version of a rubber stamp, one that would be used to validate or endorse official papers.  In overall shape, the stamp itself is similar to a roughly carved wooden pestle (as in mortar & pestle), about three inches long, cut flat at one end, where the actual stamp area is carved.  The shape of the stamp is an oval about two inches at its widest part. The words on the stamp are very finely carved, but in reverse, of course, and that is likely why the label on the box is wrong. Eleanor Sherman Fitch read it read it forwards instead of backwards.  "S.C." is actually "C.S."
Around the edges, it says:
CAP'T COMD'G – C.S. MILITARY PRISON
Inside those words is carved:
H. WIRZ.
This is the seal of Henry Wirz, commandant of Andersonville Prison, in Georgia, the only man who was executed for war crimes during the Civil War.  In the summer of 1864, Sherman attempted to free prisoners at Andersonville, but the force he sent was defeated. He later wrote, "I don't think I ever set my heart so strongly on any one thing as I did in attempting to rescue those prisoners."
There is nothing in the archives to indicate how Wirz's seal got into the Sherman papers, nor have I ever seen any reference to this item in any biography of Sherman that I've read.  I'd love to know if anyone else knows about this.
One important footnote – The images appear with the permission of the University of Notre Dame's Archives.
Filed in:
I had an interesting question from a student in my European Warfare, 1337-1815 course today. He said he'd heard that wars were named according to a formula of sorts: the second of the two countries mentioned was the victor. In other words, the Austro-Prussian war was won by the Prussians, the Franco-Prussian war by the Prussians, the Sino-Japanese war by Japan, the Russo-Japanese war by Japan, and so on.
I admit I was taken aback. I've never come across such an idea before, although I have pondered when various wars gain a formal name, shifting from "the present war" to the "Great War" to "World War I".
Or the recent preference for naming (small) wars after the military operational nomenclature (e.g. Operation Iraqi Freedom…), or the historical amnesia that leads people today to refer to the second U.S. war against Saddam Hussein as simply the "Iraq War" ("Gulf War II"?).
So I replied to the student with some skepticism:
"What about all those wars that don't explicitly mention the belligerents at all? If the rule does exist, does it only apply to wars between two, and only two, countries?"
"What about wars whose names change over time, e.g. the War of the League of Augsburg becoming the War of the Grand Alliance becoming the "Nine Years War?"
"What about the wars that are called different names, depending on the country?"
"Besides, who exactly would be in charge of 'officially' naming a war? Was there some naming committee that met and named the wars? Kinda like medieval heralds who met after a battle to agree on what to call it?"
Looking back, I think I usually thought about war names in terms of convenience rather than signaling real historical meaning: which country names had a good 'combining form'? China (Sino-) or Japan (Japo-??). But that clearly is inadequate, since the Franco-Prussian war could just as easily be the Prusso-French war. So now I'm not so sure.
Needless to say, I am willing to chalk it up to somebody leading my student astray with a shaky generalization from a few cases, but perhaps someone here can enlighten me. Have you heard of this idea? Has anyone written a detailed study of the naming of wars? Is it possible this is, or was, a real convention? Is it possible that all these war names were chosen (in English obviously) at around the same time, and that there was a convention used, at least at that time? Or maybe the first war named with this formula was copied for later wars? I don't know if this Google Ngram Viewer chart helps or not:
Any illumination would be appreciated.
Filed in:
[Cross-posted at Airminded.]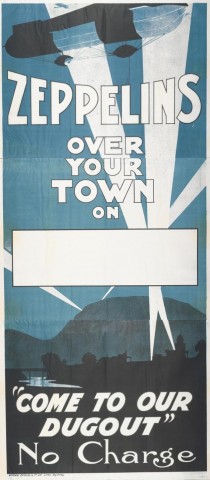 Above is a poster printed in Australia during the First World War. It very strikingly shows a Zeppelin caught in searchlights (with an aeroplane just visible at the top) over what looks like a town nestled in a valley beside a river. The text reads:
ZEPPELINS OVER YOUR TOWN ON ________

"COME TO OUR DUGOUT"

No Charge
It was pointed out to me by Peter Taylor, who found it in the Imperial War Museum's collections and noted that it seems unusual for a Zeppelin to feature in Australian propaganda. So what's going on here?
(more…)
Filed in:
Today the U.S. government officially observes Columbus Day.  But of course Columbus Day traditionally falls on October 12, the date on which the expedition under Christopher Columbus first touched land in the western hemisphere (by most reckonings at San Salvador Island in the Bahamas). Although the United States began to observe Columbus Day regularly in the years following 1892, the 400-year anniversary of the (European) discovery of America, it was only In 1971 that the Nixon administration made the day a federal holiday, to be observed on the second Monday in October.
Back then, the pop duo Seals & Crofts, two Texans who happened also to be adherents to the pacifist faith Baha'i, could still reach for Columbus when they wanted their lyrics to challenge listeners to find the best in themselves:
Like Columbus in the olden days, we must gather all our courage.
Sail our ships out on the open sea.
Cast away our fears
And all the years will come and go, and take us up, always up.
We may never pass this way again.
We may never pass this way again.
We may never pass this way again.
"We May Never Pass This Way (Again)" appeared on the album Diamond Girl in 1973. There's no way Seals & Crofts would–or probably even could without inviting howls of protest–use Columbus as imagery again. Indeed, when they performed the song in concert in 1992, the 500th anniversary of Columbus's first voyage, they substituted the less inflammatory name "Magellan," for by then Columbus and his holiday had become controversial, to say the least.
Indeed, invite a Native American to celebrate Columbus Day with you and see what response you get. People are not stereotypes and I imagine if you invited enough Native Americans you'd find some takers. But for the most part their appraisal of the holiday and what it really commemorates is probably well epitomized by Transform Columbus Day.Org, whose statement of principles reads in part:
Columbus Day is an inherently racist statement of cultural domination. Celebrations honoring Columbus reinforce a historical process of racism, theft, lies, murder, slavery and the destruction of the environment. Individually and collectively, we reject Columbus as a heroic personality, and we reject holidays, celebrations or other expressions of adulation for Columbus.
That sure puts a different perspective on the Seals & Crofts song. The contrast between their original intent and the TCD.org statement of principles becomes even more pronounced when you consider that the lines quoted above are preceded by this one:
Peace, like the silent dove, should be flyin' but it's only just begun.
Even so, Seals & Crofts eventually went back to singing "We May Never Pass This way (Again)" in its original form, probably because their fans found it jarring to hear the lyrics altered. Maybe the duo should have kept at it, though: I heard Rod Stewart at a 1993 concert start to sing his pre-AIDs era hit "Do Ya Think I'm Sexy?" only to halt just as the crowd began to get into it. He didn't sing that song any more, Stewart explained. Which was as good as a sermon on safe sex.
Of course, even if they had stuck with "Magellan" the change would have been cosmetic rather than substantive. In and of itself, Magellan's voyage was less lethal than the ultimately four voyages of Columbus, though Magellan himself was killed during a pitched battle with Filipino natives after siding with one tribe over another in a local dispute. But it was very much part of the larger European project of colonization and domination. Seals & Crofts would have run into the same problem with "Da Gama," which also fits the rhythm. Da Gama's three voyages were punctuated regularly by violence, including acts of piracy and at least one major battle at sea. They were also crucial in laying the foundation of the European enclaves in Africa and southern Asia from which the slave trade and, eventually, large-scale colonization would result.
Basically, Seals & Crofts couldn't win for losing if they chose a European explorer on the historical merits, for virtually every one of these expeditions was a military expedition, carried out by armed men aboard armed vessels.
I still like the song, though. We may never pass this way again.
Filed in:
[Cross-posted at Airminded.]
In Giulio Douhet and the Foundations of Air-Power Strategy, Thomas Hippler describes what he calls Douhet's 'ahistorical historicism':
His thinking is ahistorical to the extent that it poses a concept of history ('everything has changed') that simultaneously cuts off history itself. His thinking is historicist, because this absolute beginning not only occurs as a break within history, but also to the extent that it gives way to a technology-driven teleological understanding of later historical development. In other words, it gives way to interpreting the development to come in the sole light of the imagined essence of this beginning.1
That is, Douhet asserted that warfare in the future is going to be utterly different to warfare in the past, and that we can only predict it by looking at warfare in the present, which itself does not resemble warfare in the future either.
Douhet, of course, was not alone. Airpower prophets routinely asserted that the past was no guide to the future, and that the present was not much better, but it was all there was to go on. So Claude Grahame-White and Harry Harper wrote in 1917 that
In viewing the lessons of this war, as they are likely to throw light on the future of the aeroplane, either as a vehicle for transport or as a weapon, it must be understood that this campaign by air, in the sequence of its phases, offers little or no guide to the trend of an air war of the future. The next great war, should it come, will begin where this leaves off; and all its subsequent stages, so far as any one air service is concerned, must be governed by the success or failure of that service in its first offensive by air — an offensive which, following instantly on a commencement of hostilities, will need to be delivered with a maximum possible force and speed.2
The paradox is that as the last war receded and the next war, presumably, approached, airpower prophets had to continue to rely on that last war for their evidence, as it was the only example of large-scale application of airpower to date. Their futurism became increasingly historical, in other words. To take a random example, in 1937 Frank Morison devoted three quarters of his book to recounting the experience of London and Paris under aerial bombardment two decades previously, and the final quarter to showing how this experience gave only a hint of what was to come. Recalling the 'hectic days of excitement and warlike preparation' before the outbreak of war on 4 August 1914, he suggested that
Surely few historical parallels could be more misleading, because the march of science has destroyed in advance that indispensable time-lag upon which the successful deployment of our military, social and industrial resources mainly depended.3
The reason, of course, was the march of technological progress:
It is practically assured that the speed of a long-distance bombing squadron, sent against London in the next war, will not be less than 250 miles per hour and may conceivably be in excess of that figure. This means that a formation sighted at Beachy Head, say at 11 a.m., if not intercepted and driven off, will reach the suburbs at 11.12 a.m. and be over Central London about one minute later.4
Hence the teleology, with war, and thus all of history, marching towards its inevitable fate of domination and even determination by the bomber. Of course Morison was not to know that within a couple years Beachy Head itself would be the site of a Chain Home Low radar station, and hence part of the solution to the bomber threat. But then, by definition believers in the bomber never had faith in the fighter.
Douhet, Grahame-White, Morison and the rest were essentially military mini-singularitarians. According its adherents, the Singularity is the point in the not-too-distant future when technological changes, especially in artificial intelligence, will accelerate and converge such that they will so utterly change society and humanity itself that it will be practically unrecognisable. But like the airpower prophets before them, singularitarians like Ray Kurzweil extrapolate wildly from the past — CPU speeds, increasing lifespans — to predict that the future will be nothing like it — uploaded personalities, immortality.5 They too are ahistorical historicists, and if the past is any guide to the future, just as likely to be right.
Thomas Hippler, Giulio Douhet and the Foundations of Air-Power Strategy (Cambridge: Cambridge University Press, 2013), 75.
Claude Grahame-White and Harry Harper, Air Power: Naval, Military, Commercial (London: Chapman & Hall, 1917), 1.
Frank Morison [Albert H. Ross], War on Great Cities: A Study of the Facts (London: Faber and Faber, 1937), 186, 187.
Ibid., 189.
Ray Kurzweil, The Singularity is Near: When Humans Transcend Biology (New York: Viking, 2005.
Filed in:
Cross-posted on Skulking in Holes and Corners.
I just learned that the Higgins Armory will be closing at the end of the year.
Those outside of New England may be unfamiliar with the armory, but this Worcester, Massachusetts-based museum was built around the medieval/Renaissance arms and armor collection of early 20C industrialist John Woodman Higgins. The resulting museum, lowering its drawbridge in 1931, currently claims 3,000 items, and is "the only dedicated museum of armor in the western hemisphere, housing one of the few significant collections of knightly armor outside of Europe," according to its website. The museum also focused on outreach, offering dozens of educational programs for schoolchildren every year. Unfortunately, it's almost 60,000 annual visitors weren't enough to make up for the lack of an endowment.
Given the focus, the interior is quite impressive and well worth a visit in the few months left:
One room in the Higgins Armory (boston.com)
It will be closing its portcullis for the final time at the end of the year, and will transfer the core of its collection to the Worcester Art Museum. It looks like WAM has big plans for the transferred items, and they promise within 6 years or so we'll be able to see 2,000 items from the collection in "open storage." Stay tuned.
Filed in:
[Cross-posted at Airminded.]
The election of Tony Abbott's Liberal-National Coalition on Saturday night, after six years of Labor majority and minority government, will mean many things for Australia. Whether they are good or bad remains to be seen. For historians, however, there are some troubling omens. A $900 million cut to university research funding (ironically, to help pay for an ambitious reform to secondary education) announced by Labor in May was inevitably criticised by the opposition, but then accepted. Despite some fine words in the months leading up to the election about respecting research autonomy, Julie Bishop, then the shadow foreign minister, announced that a Liberal government would cut funding to any academics who supported boycotts against Israel. And with only two days to go the Liberals revealed that they would 're-prioritise' another $900 million of Australian Research Council grants deemed 'wasteful'. This, again inevitably, means the humanities will be targeted, with any research project not contributing to somebody's bottom line open to ridicule, or worse.
Due to its role in constructing the nation's self-image, history is going to be particularly vulnerable to political interference. As I briefly noted back in April, the then shadow minister for education, Christopher Pyne, attacked the history component of the new National Curriculum as politically correct and promised that a victorious Coalition would overturn its emphasis on the so-called 'black armband view of history'. This is a phrase which first became prominent in the 1990s during what became known as the history wars, and though it was historian Geoffrey Blainey who introduced it, it remains indelibly associated with John Howard, the last Liberal prime minister before Abbott. Howard used the accusation that historians were painting a far too negative picture of Australia's past, particularly in the invasion, dispossession and genocide of its indigenous people by European settlers, as an excuse to do nothing about Aboriginal reconciliation. So the reappearance of 'black armband history' suggests that the history wars are about to start again.
If so, then both military history and British history — my areas of expertise — may turn out to be key battlefields. Pyne claimed that the teaching of history in Australian schools 'must highlight the pivotal role of the political and legal institutions from England, Ireland, Scotland and Wales'. I agree, in principle; certainly the teaching of British history seems have declined at university level over the last decade or so, which seems odd given the importance of Britain in Australia up until the mid-twentieth century. But I have little faith in the ability of politicians to not be politicians when it comes to history. Gallipoli, as ever in this country, shows why. Pyne further criticised the way that the significance of Anzac Day was being taught alongside other national days and hence diluted:
ANZAC day is very central to our understanding of our Australian character and our Australian history, and I think it downplays ANZAC day for it not to be a standalone part of the history curriculum – to be taught about Australia's culture and what we've done in the past [...] I think ANZAC day speaks very much about the kind of country we are today and where we've come from. It was the birth of a nation – the birth of a nation in the First World War [...]
He's right that Anzac Day has been and continues to be very important to Australians. But that doesn't mean it's unproblematic — as the (unidentified) ABC journalist who interviewed Pyne at the time pointed out:
Journalist: You think that the Australian nation was born when we stormed Gallipoli?

Pyne: I have absolutely no doubt that the experiences of the First World War, as exemplified by the campaign in Gallipoli, bound the Australian nation together like no other event in the first fifteen years of federation.

Journalist: It divided the nation – what about the great debates over conscription? It was an incredibly divisive time, Christopher Pyne.

Pyne: Well David, the debate about conscription has nothing whatsoever to do with the campaign in Gallipoli.

Journalist: How can you say that the conscription debates had nothing to do with the slaughter which had been going on up until that time? Those conscriptions, that referendum occurred in 16, and again in 1917. Of course they were referring back to what happened in the previous twelve months, eighteen months, two years.

Pyne: Well, I think you've massively expanded the debate. I mean yea, the conscription debates are a fascinating part of Australian History, but…

Journalist: You said it was unifying. I'm saying it was a divisive time.
Both have a point here. The extent to which Gallipoli unified the nation in 1915 can't erase the incredibly bitter conscription debates in 1916 and 1917, or vice versa. (And Australians were very jittery in 1918, too.) But Pyne is the one who will be in power.
With the centenaries of the start of the First World War arriving next year and of Gallipoli itself the year after, historians are going to struggle to preserve any sense of nuance in the public historical debate. But we have to try.
Filed in:
While a Graduate Dissertation Fellow at Stanford University's Clayman Institute for Gender Research, my new colleague Katherine Marino wrote the following article on the work of Dara K. Cohen, an assistant professor of public policy at the Harvard Kennedy School of Government. The piece originally appeared in the Clayman's online publication Gender News in October, 2011. The Clayman Institute has kindly extended permission to reprint it here.
When Eman al-Obeidy burst into the Rixos hotel in Tripoli, desperately relating her tale of gang rape at the hands of Libyan soldiers as international news cameras rolled, the eyes of the world momentarily focused on the problem of sexual violence in wartime. Worldwide attention has grown considerably in recent years, from the United Nations' outcry against mass rapes in the Democratic Republic of Congo to the war in Darfur.  However, very little is known about why wartime rape occurs.
Perhaps the most common explanation for wartime rape, bolstered by the examples of Rwanda and Bosnia, is that it is a tool of ethnic cleansing. In other words, the objective of this kind of rape is to impregnate women from the targeted community and in so doing, "cleanse" the group by altering its ethnic makeup.  It is a tool of war designed to humiliate and psychologically terrorize members of the targeted group. Another prevailing reason is that it occurs due to women's relative inequality as compared to men. The argument, made by many in the human rights advocacy world, is that in places where women are culturally devalued they are put at risk of being brutalized by men.
Moving beyond conventional wisdom about wartime rape
To better understand the causes of wartime rape, political scientist Dara Kay Cohen carried out a research project using two types of methodologies.  Her conclusions? Cohen calls these usual explanations for wartime rape "very powerful conventional wisdoms," which do not explain most cases of rape in civil war.
First, Cohen conducted an in-depth examination of the civil war in Sierra Leone (1990-2002), in which widespread rape occurred even though the civil war was not an ethnic conflict.  By starting her research in a region without an ethnic conflict, Cohen could focus her research on understanding other explanations of wartime rape. Over the course of her fieldwork, Cohen took three trips there, conducting interviews with over 200 ex-combatants and noncombatants about their varied experiences with violence during the conflict.
Second, Cohen developed the first ever systematic and comprehensive dataset on wartime rape. The dataset, which utilizes information from the State Department Human Rights Country reports, found that of the 86 civil conflicts between 1980-2009, about two-thirds were reported to involve significant rape.  Surprisingly, her statistical analysis revealed that wartime rape is not more likely to occur in ethnic conflicts or in places with greater gender inequality.  Rather, she found a correlation between the choice of recruitment mechanism of an armed group and that group's use of rape.
"Combat socialization" used to unite armed groups
From her interviews with ex-combatants in Sierra Leone, as well as similar interviews conducted in El Salvador and East Timor, Cohen argues that gang rape often serves as a means of socialization for members of armed groups who perpetrate it, what she calls "combatant socialization."  The insurgencies and armies that have abducted or press-ganged their members into service are more likely to perpetrate widespread rape than those whose "members are recruited through more voluntary methods."  She explained in an interview that gang rape "has…[a] benefit to the group unit under certain conditions.  If the people in the group don't know each other, [and] have no basis on which to trust other, there is a lot of evidence to suggest that…rape, in particular…has an even stronger bonding function than [other forms of] violence."  Gang rape, she explains in a recent paper, "enables armed groups with forcibly recruited fighters to create bonds of loyalty and esteem from these initial circumstances of fear and mistrust."
One of Cohen's most unexpected findings is that these bonds of socialization apply not only to male combatants, but also to female combatants.  On her second fieldwork trip to Sierra Leone, Cohen discovered that the rebel group which committed the most rape, the Revolutionary United Front (RUF), was also the group with the most women fighters.  She then interviewed female RUF fighters, a number of whom revealed that they were actively involved in gang rapes along with male combatants, holding victims down as well as utilizing bottles and other objects to perpetrate rape.  Others' survey data confirmed that female combatant participation constituted a wider phenomenon, which, as Cohen explains, challenges the "conventional wisdom…that if you have more women in the armed group, there should be less rape."
Future research to show that interventions against rape are not "one size fits all"
Cohen's interest in studying violence against women dates back to her years as an undergraduate at Brown University, when she volunteered for several years at a rape crisis center, and interned at the Rhode Island's attorney general's office in their domestic violence and sexual assault unit.
While studying Political Science in graduate school at Stanford, Cohen saw an opportunity to utilize the rigorous social scientific methodology of political science, drawing from models of violence and victimization in wartime, in order to study a subject that has received less attention in the field — sexual violence in conflict.
Recently, the National Science Foundation awarded Cohen a $245,000 grant for a collaboration with the Peace Research Institute of Oslo (PRIO) to, as she explains, "collect a much more detailed dataset" for the analysis of incidents and patterns of sexual violence.  She expresses the hope that "eventually we will have [data] that is a lot of use to both the policy community and to academics interested in these questions."  One ultimate goal is for her work to "help policymakers…be more careful in forming interventions that are not 'one size fits all.'"
Over the past four years, the United Nations has taken unparalleled steps toward investigating, enhancing data collection on, and curbing sexual violence, including Resolution 1820, in 2008, which provides a mandate for the UN to intervene in cases of widespread sexual violence.  Despite such advances in the international realm, better understanding of the root causes of sexual violence in war is crucial if these efforts are to succeed, and this is where Cohen's work strikingly breaks new ground.  "It is not always the case that ethnic war and rape go hand in hand.  And it is not always the case that gender inequality automatically means that rape happens during wartime," Cohen says. "Those are the sorts of things…I am hoping that policy makers will hear when I start publishing my work."
Filed in:
I was a writer before I was an historian, and a "pop historian" long before I became an academic historian. I started publishing in magazines like Civil War Times Illustrated when I was twenty. I enjoyed it. I researched and wrote it as well as I knew how, and I naively supposed that people in the groves of academe would respect what I had done.
To a considerable degree they did. When I applied to graduate school the writing sample I provided was a 25,000-word special issue on the life of Robert E. Lee. While no one mistook this for a scholarly article, it did convey to the graduate studies committee such useful bits of information as the fact that I could write effectively, that I had sufficient organizational skills and follow-through to complete a manuscript of that length, and that I had a certain amount of savvy in that I'd learned the ropes of publishing.
Even so, I was lucky, because there's an undercurrent of disdain for popular history within the academy and if my application had landed in a different department I would have been far better off turning in the usual undergraduate research paper.
Just now I used the word "undercurrent." It might have been more apt to use a word like "cloud" or "fog," because as with many of the less savory aspects of academic culture, you can rarely point to a faculty member who will explicitly and openly denigrate history written for the non-specialist. And yet the undercurrent/cloud/fog exists, and every graduate student with an ounce of perception learns it very early in her career.
For instance, in 1994 a quartet of graduate students at Indiana University used precisely the term "undercurrent of disdain" when giving their perception of the profession's view of history written for non-specialists:
Despite avowals to the contrary by a profession whose democratizing impulses led to "people's history," our professional culture still contains an undercurrent of disdain for works written by amateurs or for public audiences. There is a hierarchy implicit in our definition of ourselves as professional historians, and it is, not surprisingly, reinforced in our professional training. As graduate students, we hear this in the classroom, where popular works may be credited as "good narratives" but ultimately derided as lacking "sufficient rigor." We absorb it through hallway conversations and professional newsletters, where we find our colleagues more readily acknowledging one another's presence on prestigious conference panels than their infrequent addresses to county historical societies or rare columns in the local newspaper. We rehearse it by learning to write historiographical essays in a style that favors subtle distinction and academic jargon at the expense of accessibility. We read it in the book review sections of scholarly journals, where academic reviewers of popular works so often feel compelled to add the curious disclaimer–"this work is meant for nonspecialists"–as a gesture of forgiveness for some perceived lack.

– Chad Berry; Patrick Ettinger; Dot McCullough; Meg Meneghel, History from the Bottom Up: On Reproducing Professional Culture in Graduate Education, Journal of American History Vol. 81, No. 3, The Practice of American History: A Special Issue. (Dec., 1994), pp. 1137-1146. You will need J-STOR to access this article online.)
Despite the baleful way that the academy regards "popular history," however, I have met many historians who do in fact write in order to engage with a general readership. My colleagues in military history do so as a matter of course, because the level of popular interest in our subject area is so great they would have to actively loathe and despise non-academics to avoid it.
I suppose, however, that a prudent graduate student might object that one should take up popular history only after achieving the safety of tenure. Maybe so. But I remember a discussion in a graduate course I took during my first year as a PhD student. The subject of popular history came up, and the professor and grad students batted it around briefly in exactly the way you might imagine from reading the block quotation above. Finally a student next to me said, with an eagerness balanced by a certain professional smoothness, that he had a real interest in writing for a general readership and after he got tenure someday he would like to try it.
The student never got to try it. He never got tenure. He never even got his degree. He died less than a year later.