The Official Blog of the Society for Military History
Filed in:
[Cross-posted at Airminded.]

On 15 February 1915, the Winnipeg Evening Tribune's daily astrology column noted the unfavourable positions of Mars and Uranus:
The affliction of Mars this month is ominous of outrages against persons in power. A disaster that will shock the people living in cities is threatened.

Uranus foreshadows peril from aeroplanes or Zeppelins. National alarm from unexpected causes is presaged by the planets.1
Readers might indeed have been excused for being alarmed, for the previous evening, Ottawa, the Canadian capital, had been placed on high alert due to reports of aircraft approaching it from the United States border. While no attack actually eventuated, the omens were not good — at least according to the McClure Newspaper Syndicate's anonymous astrologer.
(more…)
Filed in:
War is often perceived as completely unethical, yet the people who engage in warfare always have ethical systems and cultural frameworks that shape their military practices and individual behaviors.
Classic texts on warfare from Thucydides to Clausewitz grapple with ethical issues, and many modern historians of war, culture, and society raise ethical questions in their work.
The New York Times has published an article showcasing Professor Robert H. Latiff's Philosophy course on the "The Ethics of Emerging Weapons Technologies," at the University of Notre Dame. Latiff was a major general in the United States Air Force who retired in 2006. The Notre Dame website indicates that Latiff earned a Ph.D. in Material Science at the University of Notre Dame and is currently teaching there as an Adjunct Professor at the Reilly Center for Science, Technology, and Values.
According to the New York Times, "Dr. Latiff has written forcefully of his concerns about 'emerging robotic armies' with 'no more than a veneer of human control.' He has served on a committee that is producing a report on ethics and new weaponry for the National Research Council. It will be the subject of a conference at Notre Dame in April."
It is refreshing to see a major news organization report on the teaching of ethics in warfare. Historians and philosophers have been actively researching and teaching ethical considerations of war since the 1960s, integrating ethical issues into military history, peace studies, political philosophy, and related disciplines.
The New York Times reports on the ethics of war.
Reposted from the Center for the Study of Religious Violence, led by Professors Brian Sandberg and Sean Farrell at Northern Illinois University.
Filed in:
I originally posted this on October 6, 2004.  Still trying to figure out the degree to which it's still applicable to the present state of our field. My sense is that we've come a pretty good ways toward conceptualizing military history in a global rather than western context. But I'm not sure we've yet discovered a world military history "master narrative" that's as coherent as the familiar "Plato to NATO" master narrative.

Two weeks ago I promised to report on the first meeting of History 873 [a graduate research seminar] in "tomorrow's entry."  I should have known better.  In the great scheme of life, a good many things take precedence over this blog–sleep not least among them.
The seminar has now met three times.  The first was, indeed, just a get-acquainted session.  I have ten students:  two early Americanists, two "civilian" military historians, and six active-duty officers (three West Point Army officers, one Navy ensign, an Air Force major, and a Republic of Korea army captain).  Initially I had some worries that some of the students wouldn't twig to the seminar's organizing concept–race and racism in the American experience.  But as nearly as I can judge my fears were quite definitely misplaced.  Thus far people are engaging with the material as well as I could wish.
[By the way, I turned out to be dramatically wrong about this.  Within a few weeks I faced a full-scale revolt.  But then it was a graduate cohort unusually zealous in its preference for "traditional" military history.  The subsequent cohort dubbed their immediate predecessors, with some bemusement, "the Old Guard."]
I'm also about five lectures into the [intermediate undergraduate] History of War course.  The first meeting was an extended, ninety-minute lecture-discussion on "The Nature of War."  I showed the roughly 140 undergraduates in the class four film clips:  a Luftwaffe air raid over 1940 London (from The Battle of Britain), the 1943 liquidation of the Lodz ghetto by SS troops (from Schindler's List), the planting of time bombs in the European quarter of Algiers in 1957 (from The Battle of Algiers), and the march of Gandhi's followers on the Dharasana salt works in May 1930 (from Gandhi).  Afterward I asked the students to tell me what the film clips had in common.  A number recognized that in each, one of the contending groups was armed, the other wasn't.  I then asked them to tell which clips were depictions of war.  Everyone considered the air raid an act of war, albeit perhaps regrettable or immoral.  Opinion was more divided concerning the scene from Schindler's List, with a number of students wanting to call it an act of atrocity, genocide, or ethnic cleansing in contradistinction to war.  They seemed implicitly to reserve the term war to describe something that was, if not noble, then at least morally defensible.  The same division occurred, to a lesser extent, with regard to the time bombs, while the scene from Gandhi struck most as an act of civil disobedience, not war.  There wasn't any correct answer, of course.  The point I wanted to make was that "war," and many terms associated with it, are inherently politicized and that it's important to think in terms of who is making the claim that a particular act is or isn't war; also to think about what any definition encompasses or excludes.
I wonder if the term "war" is not also racialized.  At first blush this will seem a reach, but I think I can make the case in two easy stages.  The first stage is simply to note that people of European heritage tend to think of war in a particular way, really a Clausewitzian way:  the continuation of a political struggle–usually an interstate political struggle–by violent means, and also involving the employment of violence by both sides.  The second stage is equally straightforward:  to note that people of European heritage are white.
Filed in:
[Cross-posted at Airminded.]
If I had to recommend one military history book I've read this year it would be Philip Sabin's Simulating War: Studying Conflict through Simulation Games (London and New York: Bloomsbury, 2012). Admittedly, this is not your usual military history book. Sabin ranges at will from the 5th century BC to the present day, devotes twelve pages of its bibliography to games as well as providing the rules to eight games in the book itself, and talks about things that didn't happen more than those that didn't. The reason for all this is that Sabin argues, I think persuasively, that insights into historical warfighting can be gained through historical wargaming. In particular, he advocates the use of wargames in teaching military history, something he has much experience in and offers much advice about. Firstly, Sabin argues that what it is best to use what he terms manual wargames rather than computer wargames, that is played with dice and paper on a table-top (though there are in fact computer-assisted versions too). The advantage of this is that students can easily understand the rules, rather than have them hidden in a software black box. More importantly, they can also modify the rules, to experiment with increasing realism or playability, for example, or to alter what is being simulated. Even more importantly, they can design their own games, to reflect their research and understanding of a particular war, something Sabin has his own MA students do. Secondly, he advocates the use of what are called microgames with small maps and no more than twenty or so pieces per side, as opposed to the more complex wargames available commercially, which can have hundreds or even thousands of counters and very finely detailed maps. The main reason for this is that in his experience anything more complex than this is too hard to teach in a two-hour class. Also, given the need to make a game playable as well as gaps in our knowledge of the battle or campaign being simulated, Sabin suggests that it is better to focus on accurately representing key dynamics, such as the importance of suppressing fire in infantry combat, rather than trying to incorporate every last detail. Thirdly, and relatedly, for several of his courses Sabin uses nested simulations to represent warfare at different levels. So for the Second World War, he uses one game covering the war in Europe from 1940 to 1945, another focusing on the Eastern Front, a third at the operational level (depicting the Korsun pocket), and a fourth at the tactical level, gaming an assault by a British infantry battalion against German defences. This enables him to highlight the ways in which warfare looks different at different scales. There's much more in here, reflecting Sabin's years of teaching, playing and designing wargames; it's an essential book if you're interested in trying this at home (or in the classroom).
So if you had to recommend one military history book you've read this year, what would it be? What one book most impressed you, informed you, surprised you, moved you?
Filed in:
I am a graduate student at Carnegie Mellon University.  The main thrust of my dissertation is the history of technology, but the particular technology I am studying is military.  Specifically, I am looking at how the U.S. military services adopted (and adapted) the airplane, and comparing that development across Army, Navy, and Marine Corps from 1908-1925.  (I keep saying this, but I hope to be done soon!)
In April of 2008, I started the archival research for my dissertation by visiting the Air Force Academy library's special collections.  As this was my first intensive research visit, I had not yet developed any clear ideas as to what, exactly, I was looking for, so I was looking at a bit of everything.  I knew, however, that I needed to see the papers of General George Owen Squier, an important officer in the development of aviation in the U.S. Army.  This collection is what brought me to the Academy.
Though he never underwent flight training himself, Squier remained an aviation promoter and enthusiast once he had been exposed to flight.  I had not yet read deeply in secondary sources, but I knew that Squier had been Chief of the Army's Signal Corps, for the last year or so before Army aviation separated from the Signal Corps in 1918.  I also knew that, from that position, he had supported the development of Army aviation.
But in reading his papers, I discovered that Squier was much more involved with (and important to) Army aviation than I knew.  One interesting thing I discovered concerned Squier's time in London as military attaché in 1914.  In a presentation in 1930, Squier's sister, Mary Squier Parker (the two were close – she survived him and was the one to donate his papers; the collection includes many of her papers as well), told members of a local Michigan club that her brother had been allowed to visit the British sector of the front in 1914 – this at a time when the U.S. was still strongly neutral, and when representatives of Britain's declared allies (Russia and Japan) were reportedly denied similar access.  Since she was relating the story in an informal setting (academically speaking) many years after the fact, I mentally discounted the tale.  I figured that that this was just a sister's pride in her brother's achievements, combined with the inaccuracy of memory inflating his importance over time.  However, I soon found some other documents to corroborate the date and nature of George's visit, and moved on with my research.
Toward the end of my scheduled time in Colorado Springs, I had been through everything I knew I wanted to see, and was at the point of just looking at other things on speculation.  The finding aid identified a collection of "News Clippings, 1899-1958" in "Package 7," and I figured I would see what kind of stories were in these clippings.  But there was a problem: "Package 7" could not be found.  In fact, as I recall, none of the "packages" could be located. They were not on the shelf with the document boxes.  After a good bit of searching, the archivists found the "packages" back in the oversized documents storage.
The packages were little more than oversized envelopes, apparently untouched since their accessioning, as the envelopes were glued shut.  The reason the archivists had had a hard time locating Package 7 is that several of the packages had been placed together in a large Hollinger box and stored with the oversized documents.  As I opened the envelope that was Package 7, I could see that the contents were all loose clippings and odd-sized papers.  Since the archivists had no idea what was in the envelope, I promised to try to sort through the papers and report on their contents.  It quickly became clear that this envelope probably contained the contents of a desk drawer: there were multiple copies of articles from the local paper mentioning George, including perhaps two dozen copies of his obituary, along with other odds and ends.
But while sorting through these clippings, I found an odd-sized piece of very heavy paper.  The paper bore a letterhead consisting of a seal and the address, "War Office, Whitehall," embossed on the paper, with nothing else to highlight them.  The document was a short letter, typed, with a firm, clear, handwritten signature.  Dated "14th November 1914" and addressed to "My dear French," the letter introduced Squier, mentioned that he would be traveling to France, that he would "doubtless want to see something of our troops," and encouraged French to "give him facilities for doing so as far as is practicable."  It was signed simply, "Kitchener."  This was Squier's free pass to visit the British lines in France and see practically anything he wanted.  (The vague wording was diplomatically necessary to avoid putting in writing exactly what Squier would be doing in France.)  The archivists were just as excited as I was to discover that this document survived, unknown, in their collection.  They immediately gave it its own acid-free folder in the last document box, removing it from the rest of the contents of Package 7.
The letter itself makes no new revelations.  It was not needed to confirm Squier's visit to the front; other evidence (beyond Mary Squier Parker's memories) exists to prove the visit occurred, though the letter does wrap it up and put a bow on the story.  Instead, the interest is in the provenance: written (or at least signed) by Lord Kitchener (at that time, Britain's Secretary of State for War) and delivered to General Sir John French (commanding the British Expeditionary Force in France) just a few months into the war.  Such a document might have been thrown away after its purpose had been served, or even deliberately destroyed to prevent any diplomatic problems should it come to light.  But Squier kept the letter, only to have it become just another anonymous piece of paper in his collection until I rediscovered it.
Filed in:
**This is, hopefully, the first in a series of guest posts–I'd love to hear about your best, favorite, surprising, provocative and inspiring archive finds.  Please email me (sankeym@mnstate.edu) if you'd like to share!
In 2008, I received my Masters degree in History from George Washington University (after thirty years working on and around Capitol Hill).  Since then, I've been working on a manuscript about how the wives of four of Lincoln's generals influenced their husbands' Civil War careers.  One of them is Ellen Ewing Sherman, and I have spent many hours exploring the William T. Sherman Family Papers Collection in the University of Notre Dame Archives.  (http://archives.nd.edu/findaids/ead/xml/shr.xml).
Much of the collection is online – the archivists have done an exceptional job of digitizing originals and transcripts of hundreds of letters between Ellen and her husband.  Even though Sherman told his wife (as he was heading to Manassas in July of 1861) that he would tear up her letters because "every ounce on the march tells," he did not.  He saved nearly all of them, and with the hundreds of his she saved, the collection includes one of the most extensive and intimate views of the war.
The collection also includes their diaries, articles they wrote, financial papers, sketches by Sherman, and the papers of their children.  In addition, the collection includes the papers of Thomas Ewing and those of several of his sons, Charles Sherman (WT's father) and some of John Sherman's papers. It is a treasure.  Thanks to the archivists' work, most all of it is accessible anywhere you have WI-FI. But, of course, some items can be viewed only in the Archives themselves, and I knew I had to go there to see them.
In mid-September of this year, I was able to visit the Archives, thanks to a generous travel grant from the Cushwa Center at Notre Dame (
https://cushwa.nd.edu/grant-opportunities/research-travel-grants/
). The major focus of my visit was an item I noted in the finding aid –  a box named "Objects" that had not been scanned (nor was there online a list of items in the box).   It turned out that there are actually three archival boxes in that category, containing fascinating artifacts owned by Ellen and Sherman.  In the third archival box, I found a mystery – a small cardboard box, labeled (in General Sherman's granddaughter's handwriting) "Seal of Confederate prison in S.C."
Opening the box, I was absolutely floored.  Inside is a wooden version of a rubber stamp, one that would be used to validate or endorse official papers.  In overall shape, the stamp itself is similar to a roughly carved wooden pestle (as in mortar & pestle), about three inches long, cut flat at one end, where the actual stamp area is carved.  The shape of the stamp is an oval about two inches at its widest part. The words on the stamp are very finely carved, but in reverse, of course, and that is likely why the label on the box is wrong. Eleanor Sherman Fitch read it read it forwards instead of backwards.  "S.C." is actually "C.S."
Around the edges, it says:
CAP'T COMD'G – C.S. MILITARY PRISON
Inside those words is carved:
H. WIRZ.
This is the seal of Henry Wirz, commandant of Andersonville Prison, in Georgia, the only man who was executed for war crimes during the Civil War.  In the summer of 1864, Sherman attempted to free prisoners at Andersonville, but the force he sent was defeated. He later wrote, "I don't think I ever set my heart so strongly on any one thing as I did in attempting to rescue those prisoners."
There is nothing in the archives to indicate how Wirz's seal got into the Sherman papers, nor have I ever seen any reference to this item in any biography of Sherman that I've read.  I'd love to know if anyone else knows about this.
One important footnote – The images appear with the permission of the University of Notre Dame's Archives.
Filed in:
I had an interesting question from a student in my European Warfare, 1337-1815 course today. He said he'd heard that wars were named according to a formula of sorts: the second of the two countries mentioned was the victor. In other words, the Austro-Prussian war was won by the Prussians, the Franco-Prussian war by the Prussians, the Sino-Japanese war by Japan, the Russo-Japanese war by Japan, and so on.
I admit I was taken aback. I've never come across such an idea before, although I have pondered when various wars gain a formal name, shifting from "the present war" to the "Great War" to "World War I".
Or the recent preference for naming (small) wars after the military operational nomenclature (e.g. Operation Iraqi Freedom…), or the historical amnesia that leads people today to refer to the second U.S. war against Saddam Hussein as simply the "Iraq War" ("Gulf War II"?).
So I replied to the student with some skepticism:
"What about all those wars that don't explicitly mention the belligerents at all? If the rule does exist, does it only apply to wars between two, and only two, countries?"
"What about wars whose names change over time, e.g. the War of the League of Augsburg becoming the War of the Grand Alliance becoming the "Nine Years War?"
"What about the wars that are called different names, depending on the country?"
"Besides, who exactly would be in charge of 'officially' naming a war? Was there some naming committee that met and named the wars? Kinda like medieval heralds who met after a battle to agree on what to call it?"
Looking back, I think I usually thought about war names in terms of convenience rather than signaling real historical meaning: which country names had a good 'combining form'? China (Sino-) or Japan (Japo-??). But that clearly is inadequate, since the Franco-Prussian war could just as easily be the Prusso-French war. So now I'm not so sure.
Needless to say, I am willing to chalk it up to somebody leading my student astray with a shaky generalization from a few cases, but perhaps someone here can enlighten me. Have you heard of this idea? Has anyone written a detailed study of the naming of wars? Is it possible this is, or was, a real convention? Is it possible that all these war names were chosen (in English obviously) at around the same time, and that there was a convention used, at least at that time? Or maybe the first war named with this formula was copied for later wars? I don't know if this Google Ngram Viewer chart helps or not:
Any illumination would be appreciated.
Filed in:
[Cross-posted at Airminded.]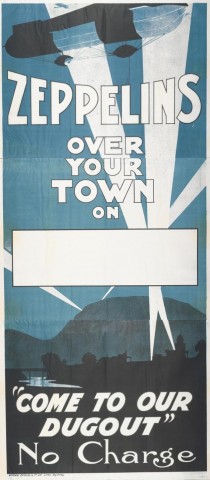 Above is a poster printed in Australia during the First World War. It very strikingly shows a Zeppelin caught in searchlights (with an aeroplane just visible at the top) over what looks like a town nestled in a valley beside a river. The text reads:
ZEPPELINS OVER YOUR TOWN ON ________

"COME TO OUR DUGOUT"

No Charge
It was pointed out to me by Peter Taylor, who found it in the Imperial War Museum's collections and noted that it seems unusual for a Zeppelin to feature in Australian propaganda. So what's going on here?
(more…)
Filed in:
Today the U.S. government officially observes Columbus Day.  But of course Columbus Day traditionally falls on October 12, the date on which the expedition under Christopher Columbus first touched land in the western hemisphere (by most reckonings at San Salvador Island in the Bahamas). Although the United States began to observe Columbus Day regularly in the years following 1892, the 400-year anniversary of the (European) discovery of America, it was only In 1971 that the Nixon administration made the day a federal holiday, to be observed on the second Monday in October.
Back then, the pop duo Seals & Crofts, two Texans who happened also to be adherents to the pacifist faith Baha'i, could still reach for Columbus when they wanted their lyrics to challenge listeners to find the best in themselves:
Like Columbus in the olden days, we must gather all our courage.
Sail our ships out on the open sea.
Cast away our fears
And all the years will come and go, and take us up, always up.
We may never pass this way again.
We may never pass this way again.
We may never pass this way again.
"We May Never Pass This Way (Again)" appeared on the album Diamond Girl in 1973. There's no way Seals & Crofts would–or probably even could without inviting howls of protest–use Columbus as imagery again. Indeed, when they performed the song in concert in 1992, the 500th anniversary of Columbus's first voyage, they substituted the less inflammatory name "Magellan," for by then Columbus and his holiday had become controversial, to say the least.
Indeed, invite a Native American to celebrate Columbus Day with you and see what response you get. People are not stereotypes and I imagine if you invited enough Native Americans you'd find some takers. But for the most part their appraisal of the holiday and what it really commemorates is probably well epitomized by Transform Columbus Day.Org, whose statement of principles reads in part:
Columbus Day is an inherently racist statement of cultural domination. Celebrations honoring Columbus reinforce a historical process of racism, theft, lies, murder, slavery and the destruction of the environment. Individually and collectively, we reject Columbus as a heroic personality, and we reject holidays, celebrations or other expressions of adulation for Columbus.
That sure puts a different perspective on the Seals & Crofts song. The contrast between their original intent and the TCD.org statement of principles becomes even more pronounced when you consider that the lines quoted above are preceded by this one:
Peace, like the silent dove, should be flyin' but it's only just begun.
Even so, Seals & Crofts eventually went back to singing "We May Never Pass This way (Again)" in its original form, probably because their fans found it jarring to hear the lyrics altered. Maybe the duo should have kept at it, though: I heard Rod Stewart at a 1993 concert start to sing his pre-AIDs era hit "Do Ya Think I'm Sexy?" only to halt just as the crowd began to get into it. He didn't sing that song any more, Stewart explained. Which was as good as a sermon on safe sex.
Of course, even if they had stuck with "Magellan" the change would have been cosmetic rather than substantive. In and of itself, Magellan's voyage was less lethal than the ultimately four voyages of Columbus, though Magellan himself was killed during a pitched battle with Filipino natives after siding with one tribe over another in a local dispute. But it was very much part of the larger European project of colonization and domination. Seals & Crofts would have run into the same problem with "Da Gama," which also fits the rhythm. Da Gama's three voyages were punctuated regularly by violence, including acts of piracy and at least one major battle at sea. They were also crucial in laying the foundation of the European enclaves in Africa and southern Asia from which the slave trade and, eventually, large-scale colonization would result.
Basically, Seals & Crofts couldn't win for losing if they chose a European explorer on the historical merits, for virtually every one of these expeditions was a military expedition, carried out by armed men aboard armed vessels.
I still like the song, though. We may never pass this way again.
Filed in:
[Cross-posted at Airminded.]
In Giulio Douhet and the Foundations of Air-Power Strategy, Thomas Hippler describes what he calls Douhet's 'ahistorical historicism':
His thinking is ahistorical to the extent that it poses a concept of history ('everything has changed') that simultaneously cuts off history itself. His thinking is historicist, because this absolute beginning not only occurs as a break within history, but also to the extent that it gives way to a technology-driven teleological understanding of later historical development. In other words, it gives way to interpreting the development to come in the sole light of the imagined essence of this beginning.1
That is, Douhet asserted that warfare in the future is going to be utterly different to warfare in the past, and that we can only predict it by looking at warfare in the present, which itself does not resemble warfare in the future either.
Douhet, of course, was not alone. Airpower prophets routinely asserted that the past was no guide to the future, and that the present was not much better, but it was all there was to go on. So Claude Grahame-White and Harry Harper wrote in 1917 that
In viewing the lessons of this war, as they are likely to throw light on the future of the aeroplane, either as a vehicle for transport or as a weapon, it must be understood that this campaign by air, in the sequence of its phases, offers little or no guide to the trend of an air war of the future. The next great war, should it come, will begin where this leaves off; and all its subsequent stages, so far as any one air service is concerned, must be governed by the success or failure of that service in its first offensive by air — an offensive which, following instantly on a commencement of hostilities, will need to be delivered with a maximum possible force and speed.2
The paradox is that as the last war receded and the next war, presumably, approached, airpower prophets had to continue to rely on that last war for their evidence, as it was the only example of large-scale application of airpower to date. Their futurism became increasingly historical, in other words. To take a random example, in 1937 Frank Morison devoted three quarters of his book to recounting the experience of London and Paris under aerial bombardment two decades previously, and the final quarter to showing how this experience gave only a hint of what was to come. Recalling the 'hectic days of excitement and warlike preparation' before the outbreak of war on 4 August 1914, he suggested that
Surely few historical parallels could be more misleading, because the march of science has destroyed in advance that indispensable time-lag upon which the successful deployment of our military, social and industrial resources mainly depended.3
The reason, of course, was the march of technological progress:
It is practically assured that the speed of a long-distance bombing squadron, sent against London in the next war, will not be less than 250 miles per hour and may conceivably be in excess of that figure. This means that a formation sighted at Beachy Head, say at 11 a.m., if not intercepted and driven off, will reach the suburbs at 11.12 a.m. and be over Central London about one minute later.4
Hence the teleology, with war, and thus all of history, marching towards its inevitable fate of domination and even determination by the bomber. Of course Morison was not to know that within a couple years Beachy Head itself would be the site of a Chain Home Low radar station, and hence part of the solution to the bomber threat. But then, by definition believers in the bomber never had faith in the fighter.
Douhet, Grahame-White, Morison and the rest were essentially military mini-singularitarians. According its adherents, the Singularity is the point in the not-too-distant future when technological changes, especially in artificial intelligence, will accelerate and converge such that they will so utterly change society and humanity itself that it will be practically unrecognisable. But like the airpower prophets before them, singularitarians like Ray Kurzweil extrapolate wildly from the past — CPU speeds, increasing lifespans — to predict that the future will be nothing like it — uploaded personalities, immortality.5 They too are ahistorical historicists, and if the past is any guide to the future, just as likely to be right.
Thomas Hippler, Giulio Douhet and the Foundations of Air-Power Strategy (Cambridge: Cambridge University Press, 2013), 75.
Claude Grahame-White and Harry Harper, Air Power: Naval, Military, Commercial (London: Chapman & Hall, 1917), 1.
Frank Morison [Albert H. Ross], War on Great Cities: A Study of the Facts (London: Faber and Faber, 1937), 186, 187.
Ibid., 189.
Ray Kurzweil, The Singularity is Near: When Humans Transcend Biology (New York: Viking, 2005.